10th June 2019
The Fiesta season is finally here, kicking off in style at Ciutadella with the Fiestas of Sant Joan. This one is by far the most popular and traditional throughout Spain. From now until September, the villages celebrate their own smaller-scale fiesta marking their own religious origin and patron saint's day. While Menorca is known to be a tranquil and quiet island, the locals sure do know how to throw a party.
During the fiestas the businesses close, and streets are cordoned off and fairground rides are set up and young and old turn out into the streets. In addition to the games, races and competitions during the day, there are concerts at night and firework displays on the final night. The real focal point of any fiesta is without a doubt however is the 'jaleo'.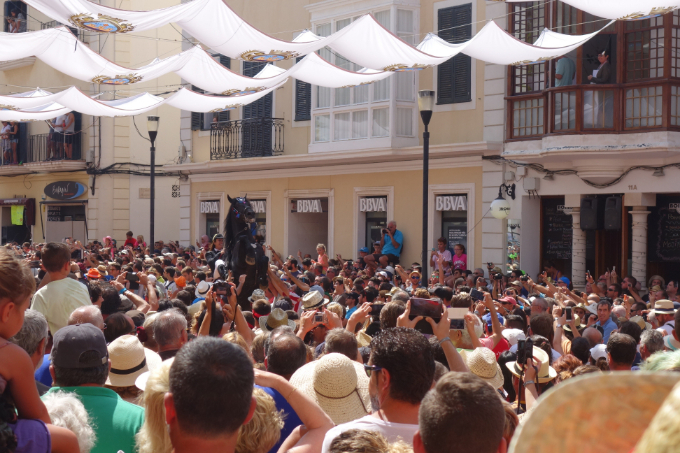 The jaleo is a spectacle that is not seen anywhere else around the world. Dating back to medieval times, the beautiful black Menorcan horses with their riders, dressed in black tailcoats, white trousers and three-pointed hats, make their way into the square in twos and threes, welcomed by cheering spectators. The horses show off their skills and dance on their hind legs in time with the jaleo melody played by the brass band. The fiesta atmosphere is infectious, and it's one to witness!
The Fiesta Schedule:
| | | |
| --- | --- | --- |
| Town | Fiesta | Dates |
| Ciutadella | Fiesta de Sant Joan | 23 - 25 June 2019 |
| Es Castell | Fiesta de Sant Jaume | 24 - 26 July 2019 |
| Es Migjorn | Fiesta de Sant Cristofol | Fifth weekend of July or first weekend in August |
| Llumecanes | Fiesta de Sant Gaieta | First weekend of August |
| Alaior | Fiesta de Sant Llorenc | Second weekend of August |
| Sant Clement | Fiesta de Sant Climent | Third Weekend of August |
| Ferreries | Fiesta de Sant Bartomeu | 23 - 25 August 2019 |
| Sant Lluis | Fiesta de Sant Lluis | Last weekend of August |
| Mao | Fiesta de Mare de Deu de Gracia | 9-9 September |
Are you looking to visit Menorca and attend one of these fiestas? There's no perfect way to feel like a local than to stay in your own villa; get in touch using our enquiry form and our team of Menorca experts will be in touch to help you find the ideal villa.