1st June 2022
We had the pleasure of giving 3 nights away in the beautiful VN265 in Cala Llonga to one lucky winner and it was the Taylor family, who are actually previous clients of ours, who won. They kindly shared their experience with us so read on to find out how it all went!
I have travelled with my family to Menorca with MPO on several occasions over the past few years and have always been impressed by their professional and efficient customer service; a family business delivering what they promise. Imagine my sheer delight when out of the blue their excellent Yuka phoned me with genuine happiness to inform me that I had won their prize draw of a three day vacation at VN265 with car hire included. Wow indeed!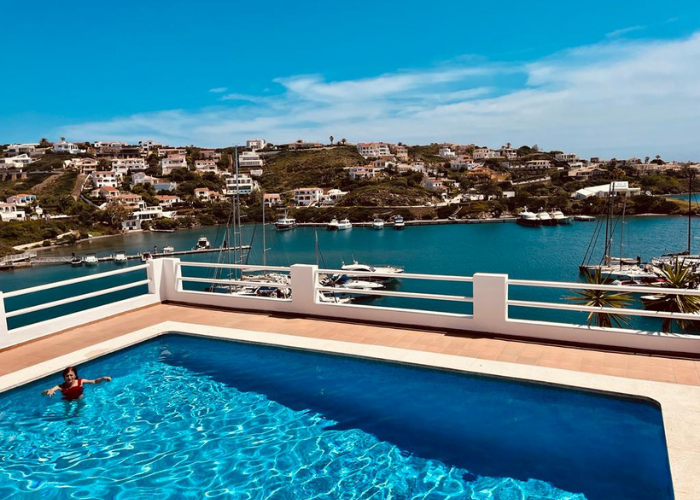 And so it was that on a warm, sunny Friday morning our family group of six found ourselves outside VN265. An imposing entrance lobby welcomed us in with its magnificent view across the harbour to the landscape beyond. A sweeping, half-turn staircase on one side meandered down to the elegant lounge and dining area. French windows opened out to the pool and to several terraces perfectly designed for chilling out at any time of the day whether for catching the sun or resting with your favourite cocktail.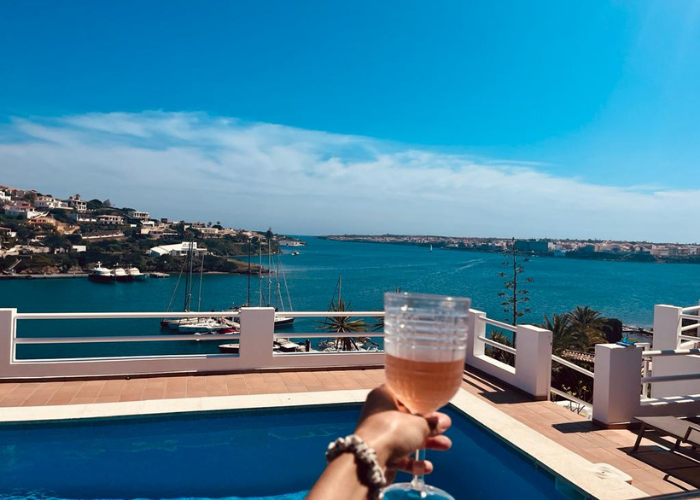 Another staircase led to luxurious en-suite bedrooms and of course, as the winner of the weekend it was only right and proper that my wife and I should have the Master suite with its panoramic views over the marina! French windows opened onto a terrace with sofas and a stride or two away was the swimming pool. Glorious! Stairs led down from our bedroom to another bathroom and a study.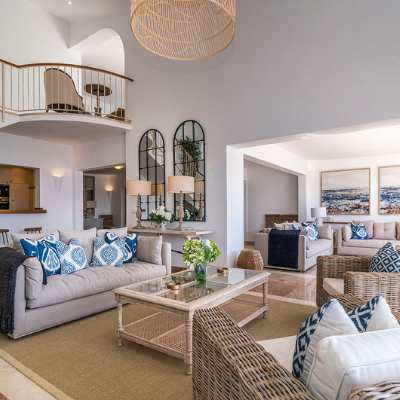 The property is stepped so that several landscaped tiers with clever and inspired planting guide you gently down to the peaceful marina below. Looking up from here to the villa perched high above, one appreciates fully how grand and imposing the villa is and I pause and revel in the beauty that is spring, rejuvenating the vegetation as blossoms burst from trees and shrubs, myrtle and broom and oleander come alive and socarrell and salicornias cling to retaining walls. Cleopatra butterflies flit from stem to stem as is their capricious nature.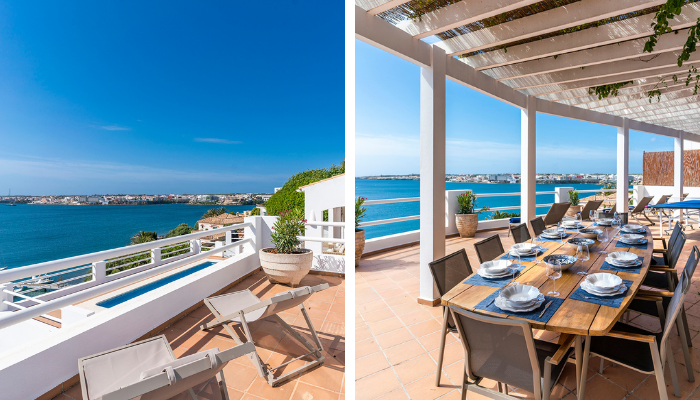 Every terrace is welcoming with seats and tables to sit and relax, to eat and drink, which we did to excess. We followed the sun from terrace to terrace to bask in glorious heat yet cooled by a refreshing breeze. Whichever terrace you are on there is always a view of the marina below with its azure waters and dancing ripples reflecting the uncompromising wrath of the fiery sun. We laze and watch the silent boats glide across the shimmering waters making their way towards Mao or steering in the opposite direction towards the open mouth of the Mediterranean beckoning invitingly ahead. It is a perfect scene: tranquillity and beauty combining to gladden the heart of any city dweller fascinated by nature and all that is connected with water.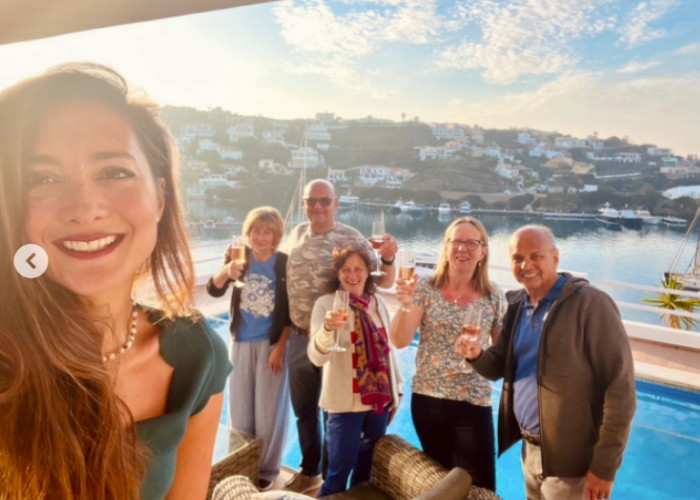 We are on a short break and so we are happy to sit and relax and chat and enjoy our good fortune in the most captivating of surroundings. On a practical level, there is a well-equipped kitchen as well as a barbecue if we were to stay in to dine and if we were here longer we would willingly make use of the facilities. But as time is short we reluctantly drag ourselves away to dinner. On our first evening out we shared tapas and cocktails at the enigmatically named "Xavxa" at the Port opposite the public car park. We were informed that this is newly opened and is a family run restaurant with fresh produce from the family farm. A nice experience and very friendly staff. Later, we strolled into the centre of Mao and had dinner at one of our favourite restaurants, Perla Kitchen and Bar, tucked away in the narrow Carrer D'Alaior 12. Here we indulge in excellent food and good service at reasonable prices.
We head back to our villa to relax with more cocktails on the upper terrace overlooking the pool. A fresh, spring breeze encroaches across the moonlit evening tide. With a still sea and a clear sky illuminated by the brightest stars, one is almost floating in space. Or could it be the endless cocktails?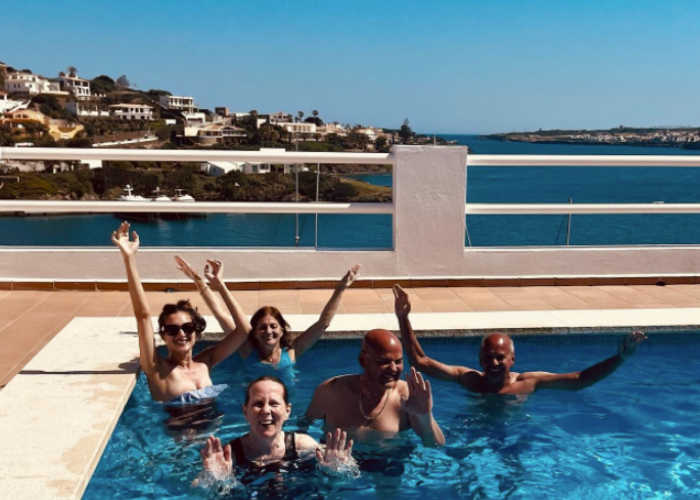 With dawn breaking, the sunlight streams through our bedroom windows waking us from our slumber. We all meet for coffee on our terrace before driving to Mao for shopping at the market and a gentle stroll through the town. We buy bread, cheese, olives, pates and more alcohol and head back to the villa for lunch where we spend the rest of the day indulging ourselves under the warmth of the sun and cooling off in the pool from time to time. The scene is still spectacular as we watch the sail boats fly on the salt cut breeze, gliding with the spring tide. A red kite circles in the distance searching for a morsel and blue rock thrushes sing a sweet song nearby. An emperor dragonfly rises and falls majestically.
As the weak evening sun begins to fall and an angelic moon starts to rise, we make for Es Castell with its traditional military architecture and the little harbour of Cala Fonts lined with bars, restaurant and shops, bustling in the peak of the summer season but restful tonight. Our intention is to dine at Restaurant Ana Luisa at Moll D'En Pons, hoping that there will be a table for us. We are in luck and indulge in the tastiest of paellas and fresh fish grilled to perfection. Sitting here over dinner overlooking the harbour in the cool of the evening, we have a perfect view across the bay towards VN265!
Sunday morning greeted us grey and wet but still very warm nonetheless. The gloom very soon gave way to blue sky and endless sunshine. Another perfect day where we ate, drank, talked and laughed thoroughly enjoying each other's company in idyllic surroundings. It is impossible to do anything but enjoy one's self in this beautiful ambience. Again, reluctantly, we dragged ourselves away to Punta Prima for dinner at Can Santi overlooking the beach where you can choose from a selection of fresh fish. Very good.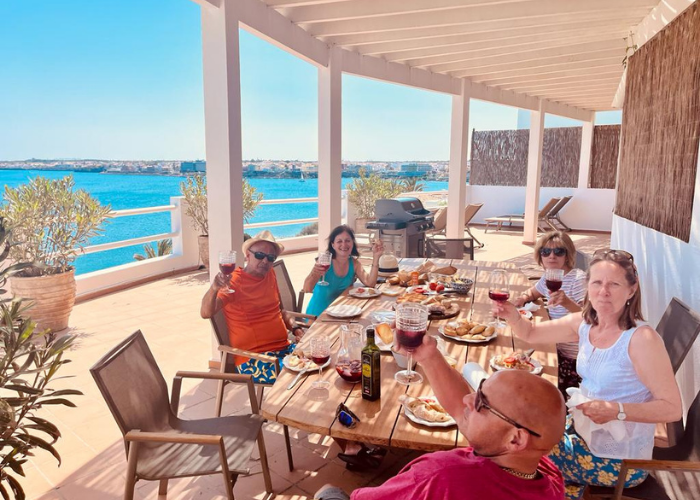 Back to the villa for more late night cocktails on the terrace cooled by the fresh and salty breeze of a Menorcan spring. We watch as the serene moon shines on a gentle tide kissing the shoreline. We catch the high pitched hoots of a Scops owl excited by the prospect of an unwary prey. What a perfect ending to a glorious three days.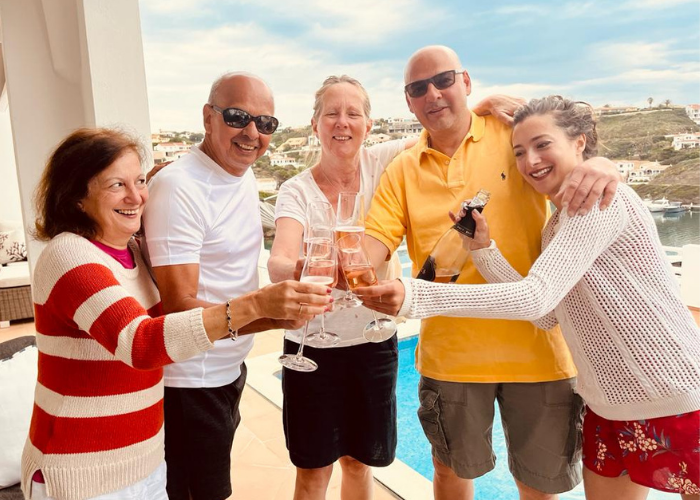 And that's it. Monday morning and we say goodbye to this wonderful experience. Our gratitude to MPO and to the owners of VN265 for making this possible. Thank you.